𝐎𝐮𝐫 𝐏𝐚𝐭𝐜𝐡𝐞𝐬 𝐑𝐞𝐚𝐥𝐥𝐲 "𝐒𝐮𝐜𝐤". 𝐀𝐧𝐝 𝐓𝐡𝐞𝐲 𝐀𝐫𝐞 𝐂𝐮𝐭𝐞?!
"Spreading self-love and acne positivity"

"Local Brand Dododots goes viral for their adorable pimple patches that suck."

"We're so happy to hear about the success of Dododots, and for them to be part of our 'Built With Meta' Campaign."

"People were crazy about the pimple patches. We officially given all out for the day and had to take reservations. Great response from the students."

"Can't believe I'm saying this, but now I'm going to be super excited whenever I get a pimple!"

"Cover up your pimples, but make it fun with Dododots! Their latest Cat & Sour patches only took three days to sell out."

"Two marketers with Science experience created Malaysia's first coloured pimple patch brand."

"There are probably more efficient patches on the market that I am yet to try, but I can guarantee that none of them are as cute as these!"
𝐀𝐬 𝐄𝐱𝐩𝐞𝐫𝐢𝐞𝐧𝐜𝐞𝐝 𝐁𝐲 𝐀 𝐇𝐚𝐩𝐩𝐲 𝐂𝐮𝐬𝐭𝐨𝐦𝐞𝐫
"After 6 hours, my pimple has flattened. I like it cause the patch is much thinner than the usual clear pimple patch so it's comfortable, and the adhesiveness is stronger, I took a nap and it's still in place."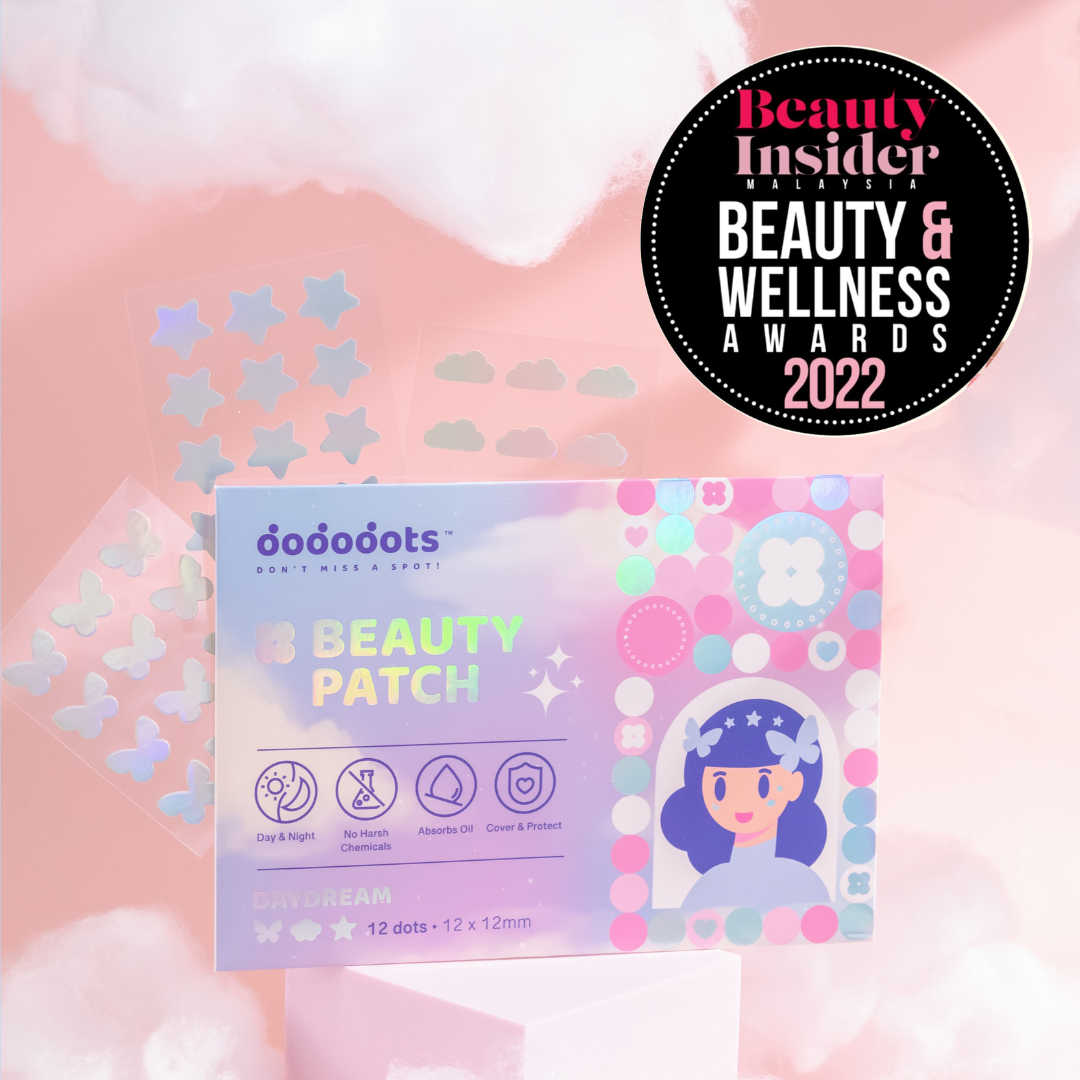 𝐀𝐰𝐚𝐫𝐝-𝐖𝐢𝐧𝐧𝐢𝐧𝐠 𝐏𝐢𝐦𝐩𝐥𝐞 𝐏𝐚𝐭𝐜𝐡𝐞𝐬
So, we sent Dododots to a panel of judges and after months of testing, we were awarded:
Best Acne Care Product of 2022
Most Innovative Brand of 2022
*screams internally* All thanks to our lovely customers who keeps us going!
Look forward to getting ready each morning. No more worries about picking your spots during the day as our dododots will keep them covered and protected.

Acne who? You don't have to skip that party or cancel your plans ever again! Cover and protect your unexpected breakouts in a stylish and fashionable manner.

Sleep with a peace of mind. Our patches will comfortably adhere to your skin and heal your spots (and you) throughout the night.
𝑨 𝑴𝒆𝒔𝒔𝒂𝒈𝒆 𝑭𝒓𝒐𝒎 𝑻𝒉𝒆 𝑭𝒐𝒖𝒏𝒅𝒆𝒓...
I used to be really insecure about my skin, to the point that I developed a fear of looking into the mirror. I started experiencing hormonal acne right after high school - it was physically painful, but the pain was nothing compared to the emotional and psychological suffering I went through. I cancelled plans, cried a lot, and wanted to be alone all the time. I was terrified of looking at other people in the eye, afraid of what they would say next about my skin.....
Suitable For All Skin Types. FDA-Approved. CE-Certified.
𝐘𝐨𝐮𝐫 𝐬𝐤𝐢𝐧𝐜𝐚𝐫𝐞 𝐠𝐚𝐦𝐞 𝐢𝐬 𝐚𝐛𝐨𝐮𝐭 𝐭𝐨 𝐜𝐡𝐚𝐧𝐠𝐞.